PGW Alumni
Throughout the years, many of Canada's and the World's leading geophysicists have worked at Paterson, Grant & Watson Limited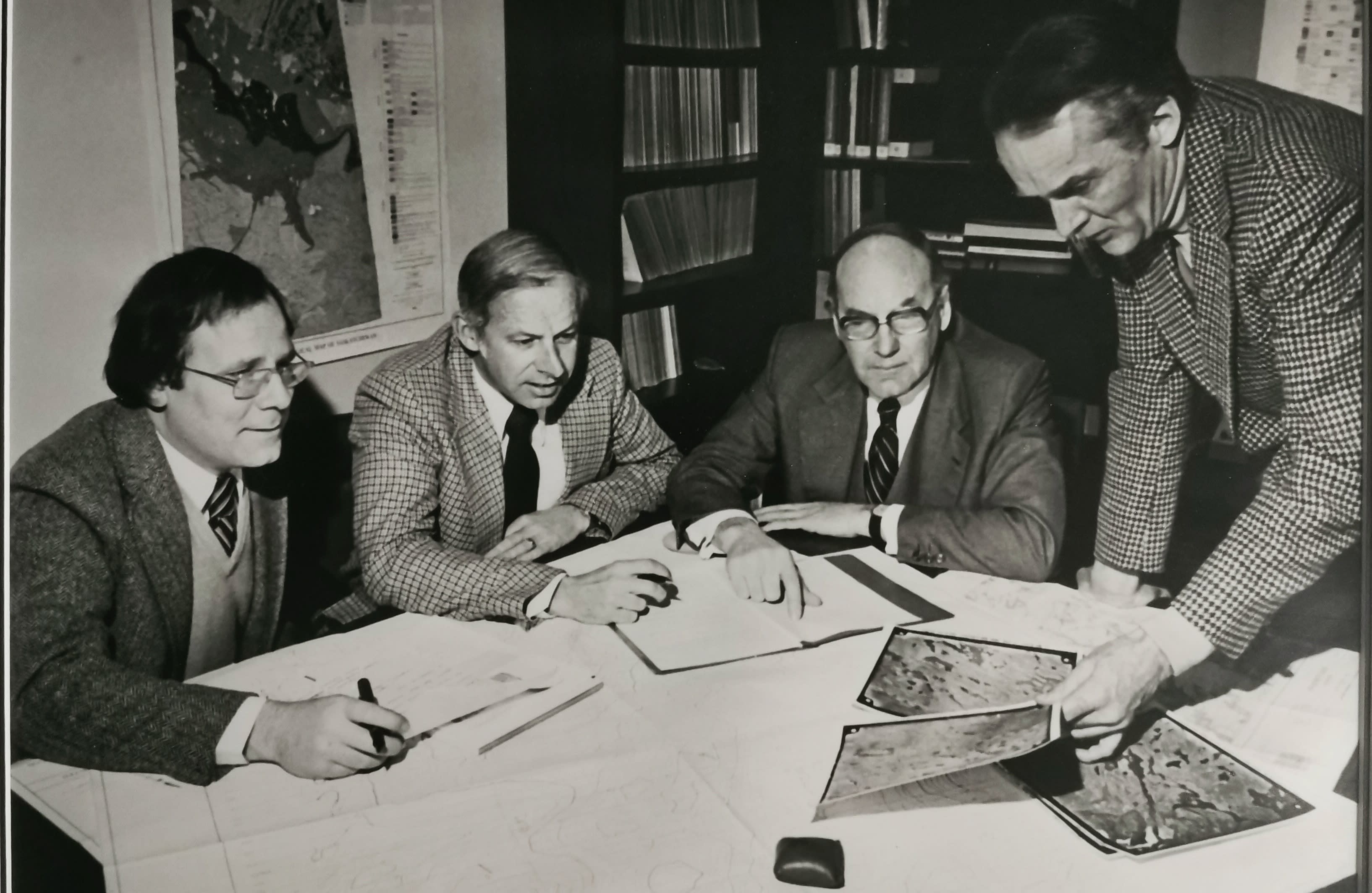 The early days of PGW, circa 1975. From left to right: James Misener, Roger Watson, Norman Paterson, and Fraser Grant.
Norman Paterson, Ph.D.
Dr. Paterson was president of PGW since its inception in 1973 until his retirement in 1996. Under Paterson's presidency, PGW grew to become one of the largest non-petroleum geophysical consulting companies in the world. In 1999, Dr. Paterson was inducted into the Canadian Mining Hall of Fame. Norm passed away in December 2022 at the age of 96.
Roger Watson
Roger Watson is one of the founding members of PGW. After leaving PGW in 1984, he was a co-founder of Terraquest Ltd., an airborne geophysical survey company. He continued working as a consulting geophysicist until his passing in March 2021 at the age of 84, just 9 days shy of his 85th birthday.
Fraser Grant, Ph.D.
Fraser Grant was a founding member of PGW after many years teaching geophysics at the University of Toronto. He was the co-author, along with Gordon West, of the classic geophysics textbook Interpretation Theory in Applied Geophysics which has been used to teach thousands of geophysics students over the years. Fraser passed away in 1984 at the age of 62.
James Misener, Ph.D.
Jim joined PGW in 1975 and became president in 1996. He was instrumental in the creation of PGW's multi-client, multi-country compilations. The result was continental scale magnetic maps of Africa, South America and China that could be used in regional exploration. Jim is a well-known interpreter of magnetic, radiometric and gravity data.
Colin Reeves, Ph.D.
Colin joined PGW in 1978. He quickly became a director of the company and stayed with PGW until 1983, where he became a professor in Exploration Geophysics at the International Institute for Geo-Information Service and Earth Observation (ITC) in Delft, The Netherlands. His work in Geophysical computing led to the establishment of Geosoft Inc. in 1986 with Ian MacLeod. Geosoft's primary softwares - Oasis Montaj and Leapfrog - are seen as the gold standard in geophysical and geological software.
Mr. Ian MacLeod
Ian MacLeod joined PGW in 1978. Along with Colin Reeves, they reached the realization that microcomputers would become important to Exploration Geophysics. In response to this, they established Geosoft Inc. in 1986, an industry-leading Potential Fields/Geochemistry/GIS software system. Geosoft has since been bought out by Seequent in 2019, then subsequently by Bentley in 2021. In 2017 the Society of Exploration Geophysicists (SEG) honoured Ian with the Cecil Green Enterprise Award.
Hermem Ugalde, Ph.D.
Hernan joined PGW's Santiago office in 1997 and in 2001 he moved to Canada to pursue a Ph.D. at the University of Toronto, which he obtained in 2006. He was a postdoc with Bill Morris at McMaster University from 2006 to 2011, where he worked on 3D data integration while keeping his links to PGW as a part-time consulting geophysicist. In 2011 he returned full time to PGW, where he processed, interpreted and modelled geophysical data with a strong emphasis on obtaining geological information from various data types.
In 2016 he became Vice-President of PGW, and also an Adjunct Professor at Brock University, where he teaches geophysics and data integration.