50 years is quite a long time…
It is typically considered a big landmark in one's life, whether it is someone's 50th birthday, a 50th wedding anniversary, or the Golden Jubilee. For PGW, it is celebrating our 50th anniversary as Geophysical Consultants. Formed in 1973, we at PGW decided to go all-out for our celebration of 50 years as a company, and what better place to do that than at PDAC?
PGW hosted a 50th anniversary celebration at the Fairmont Royal York on Monday March 6th after-hours of the PDAC 2023 Convention, and we went all-out for it. A three-piece jazz band rocked the room while guests enjoyed hors d'oeuvres, an open bar, and a custom cake from the bakers in the Royal York. We even had exclusive PGW50 pins made to mark the occasion. We were joined by family, friends, colleagues, and PGW alumni to share our stories of PGW, reminisce about the good (and bad) times of the company's history, and to share a laugh over a few drinks.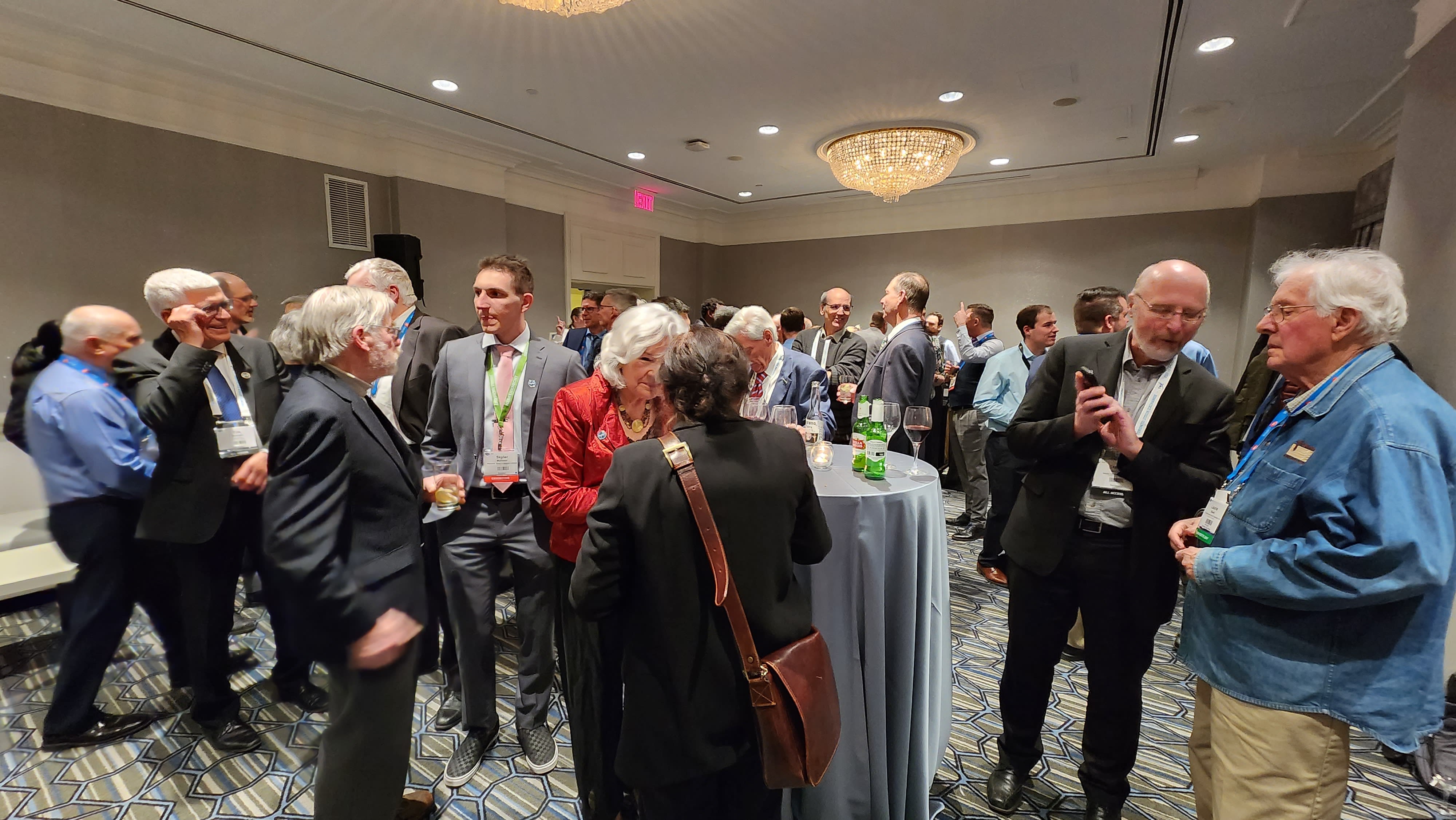 The party gathered close to the bar.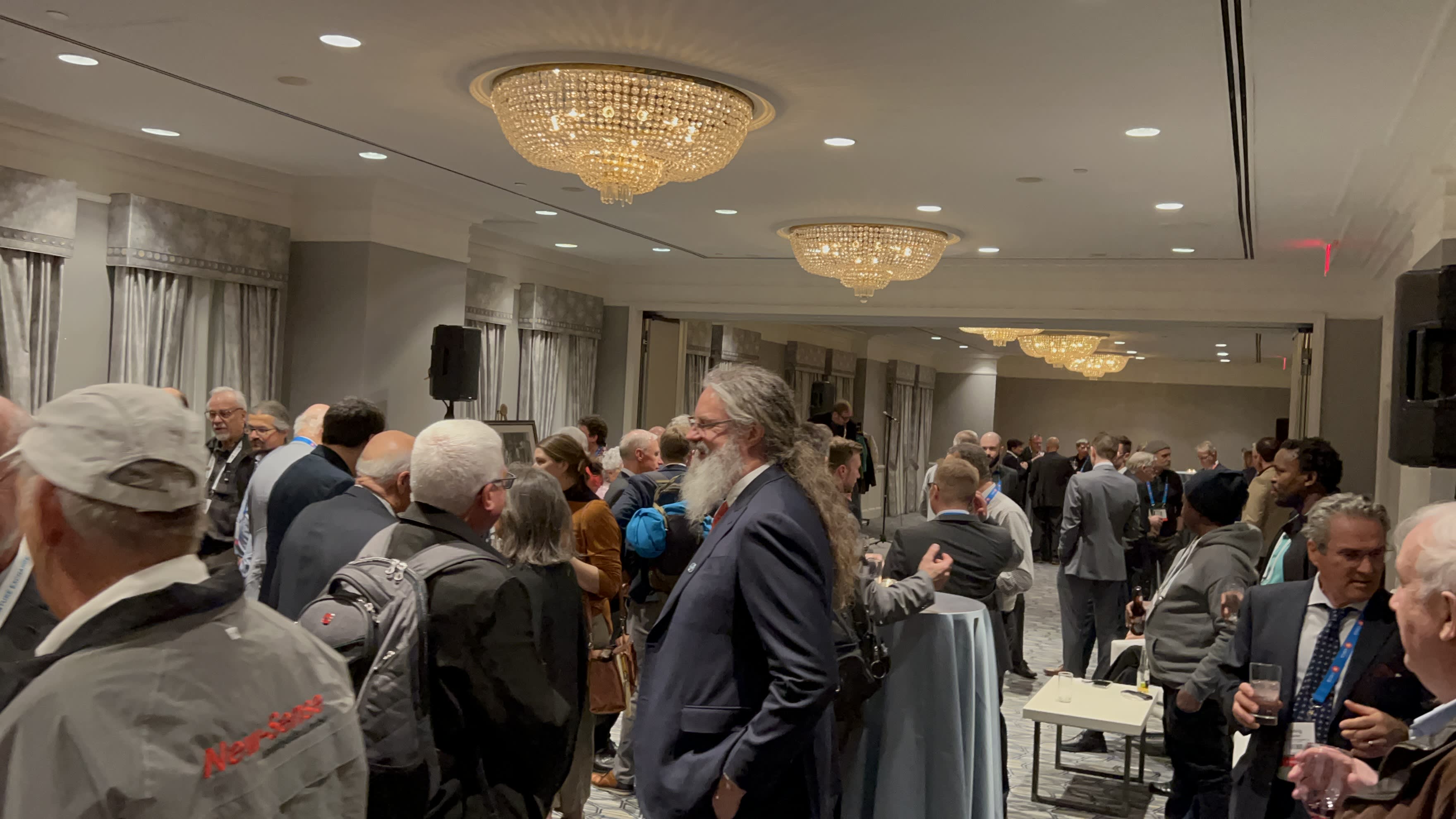 The room was filling up early!
While this was first and foremost a party to celebrate our 50 years as a company, we took the opportunity to remember those we have lost in recent years. Our last remaining founders Roger K. Watson and Dr. Norman R. Paterson passed away in March 2021 and December 2022, respectively. Additionally, we lost PGW Alumni Biljana Milicevic who passed away in September 2022 and Jerry Roth who passed away less than two weeks before the party.
Our current President Stephen Reford kicked off the speeches by reflecting over PGW's history as the company's longest-tenured member (over 40 years with PGW!), acknowledging and thanking his wife Sandra and family, and shared some stories of those we lost. Vice-President Edna Mueller-Markham followed that up with stories during her tenure with the company and what PGW meant to her. Norman Paterson's partner Dorris then took the floor to show a side of Norman that few of us witnessed, and gave great stories and insight of the final years of Norman's long life. Finally, Bill Scott closed the floor with funny stories of Norman from the field to end things on a lighter note.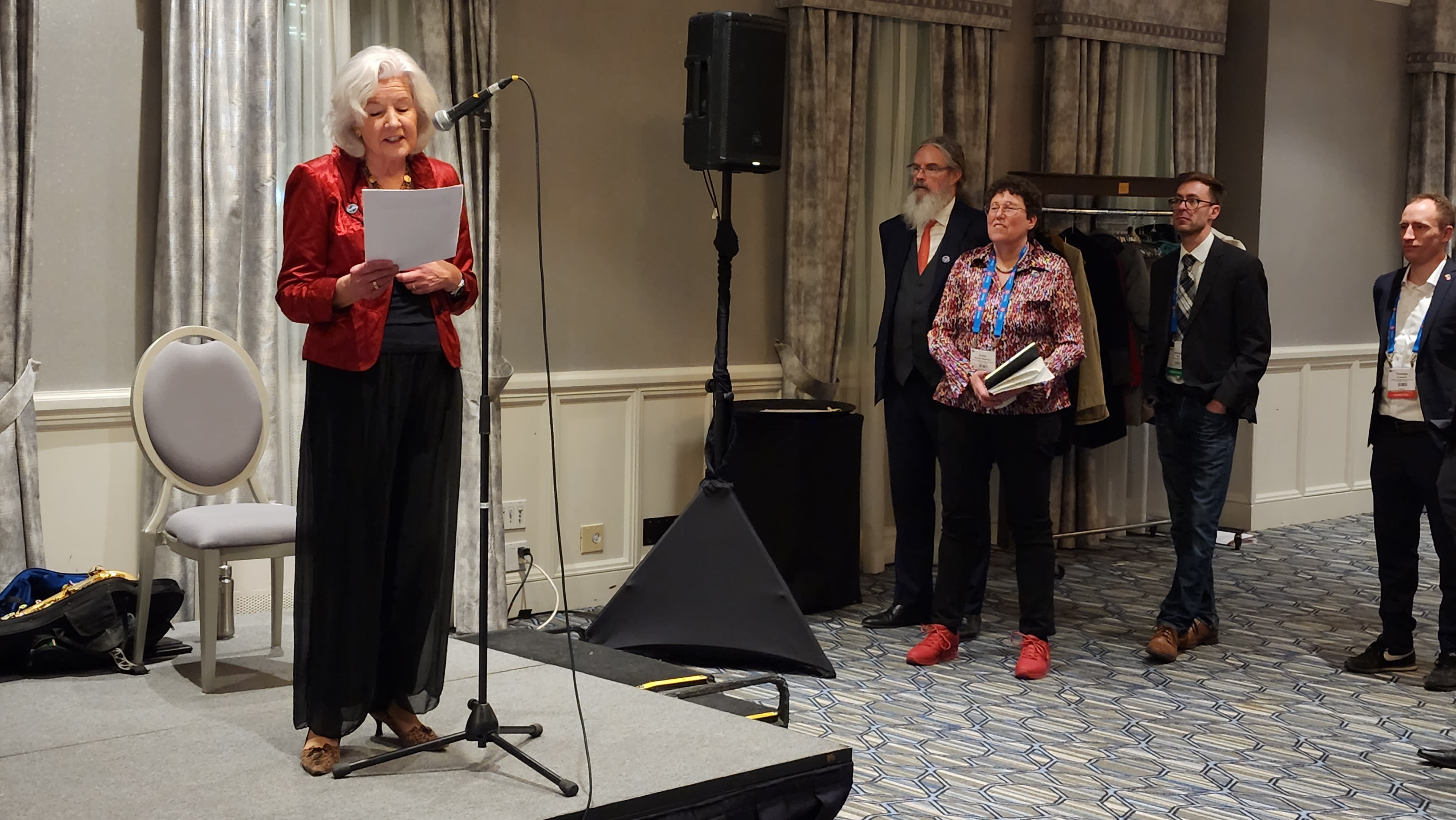 Dorris, Norman Paterson's partner, delivers a passionate and thoughtful speech of Norman's final years while partygoers look on.
The cake cutting kicked off the remainder of the evening activities, as everyone continued to enjoy the food and drinks and enjoy each other's company. It was amazing to witness different generations come together to share their experiences with the company, whether it was the old guard reflecting on making maps by hand for days at a time, or the younger generation telling of their experiences in Nigeria and India.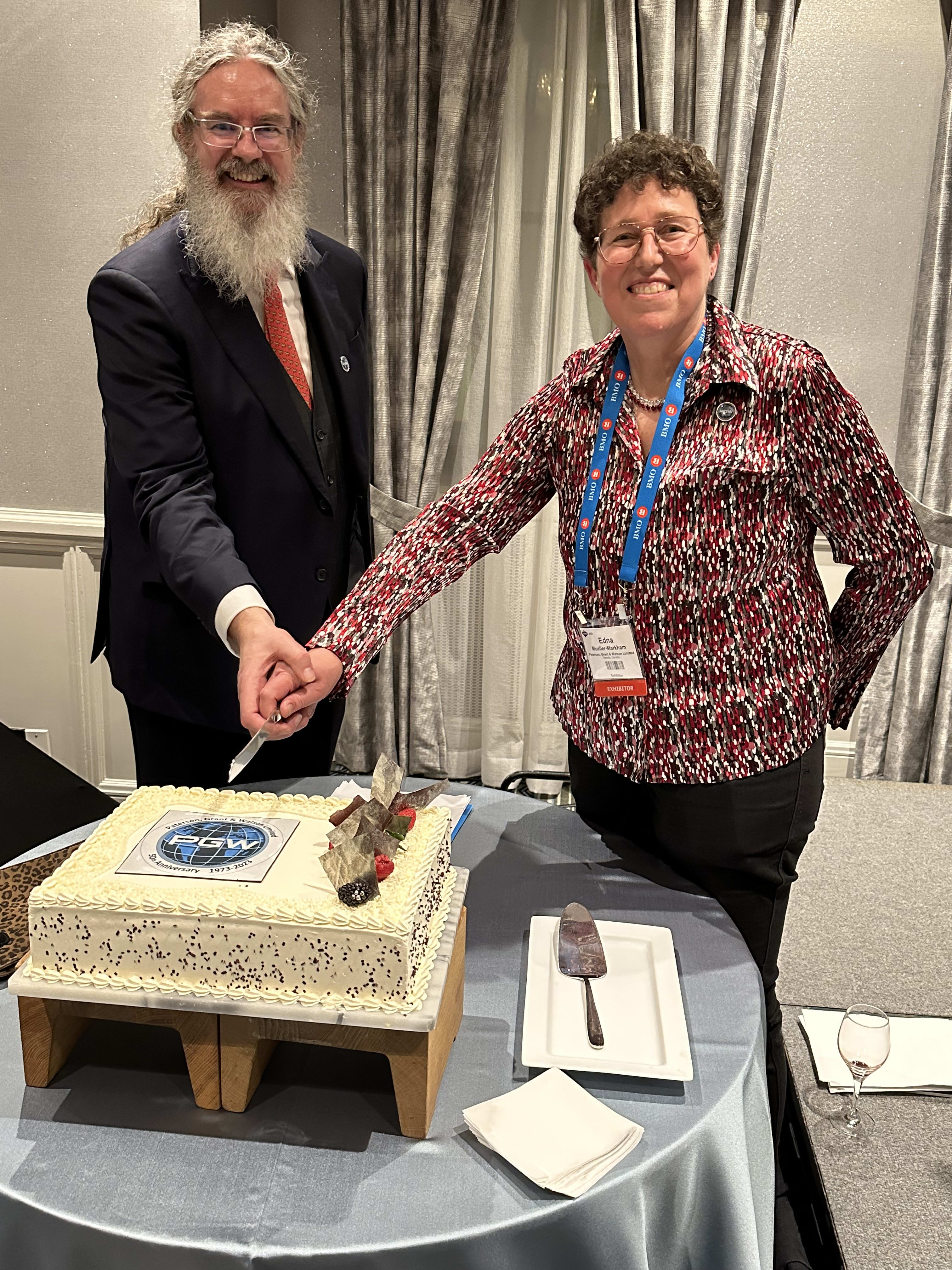 Our President Stephen Reford and Vice President Edna Mueller-Markham cutting the PGW50 cake.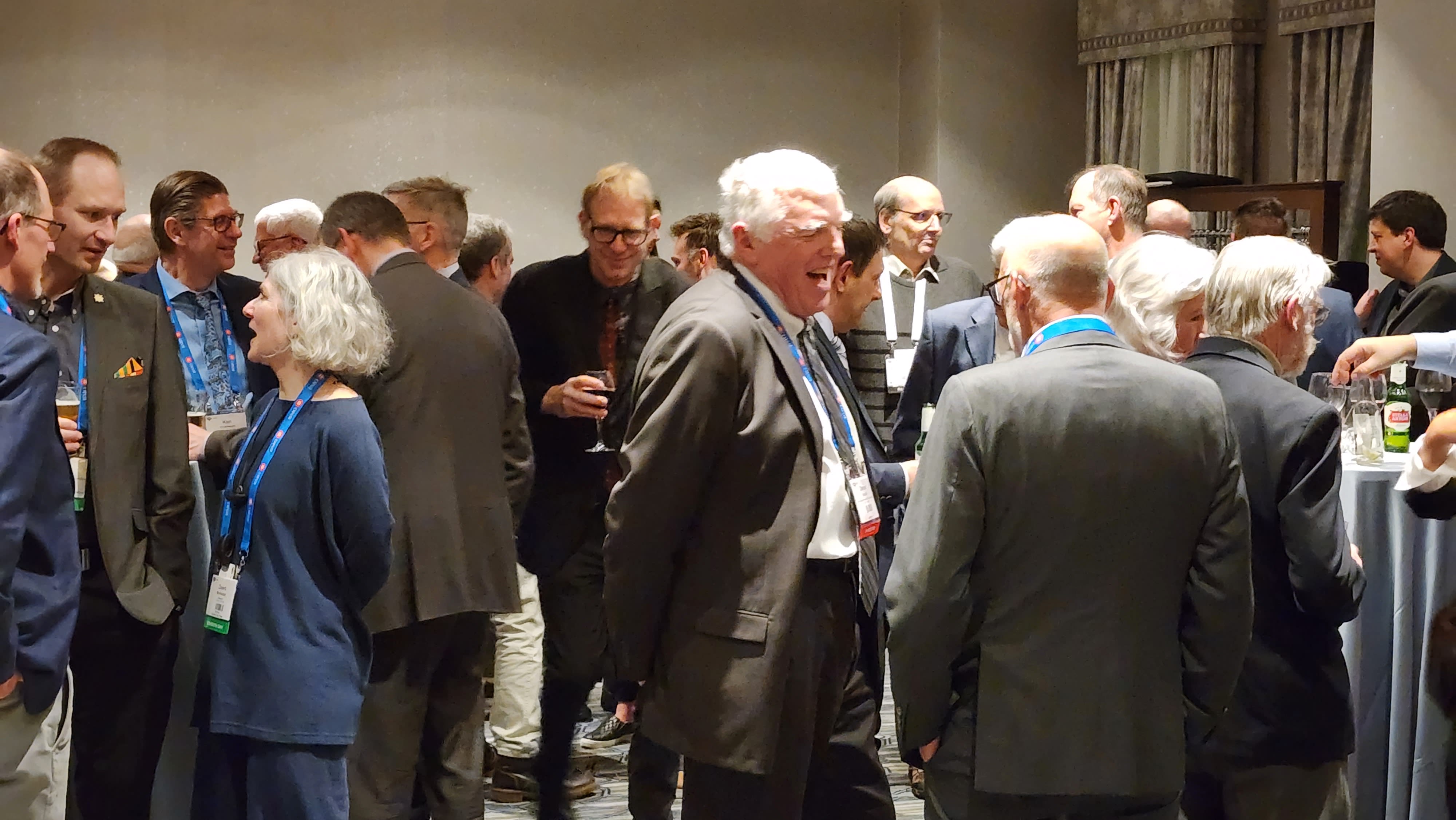 The party rages on!
We cannot say thank enough to everyone who showed up for making this party a great celebration, and to Micki Allen for planning the entire event. Additionally, we thank you all, because it is YOU that has helped PGW be around to provide world-class consulting services for the last 50 years.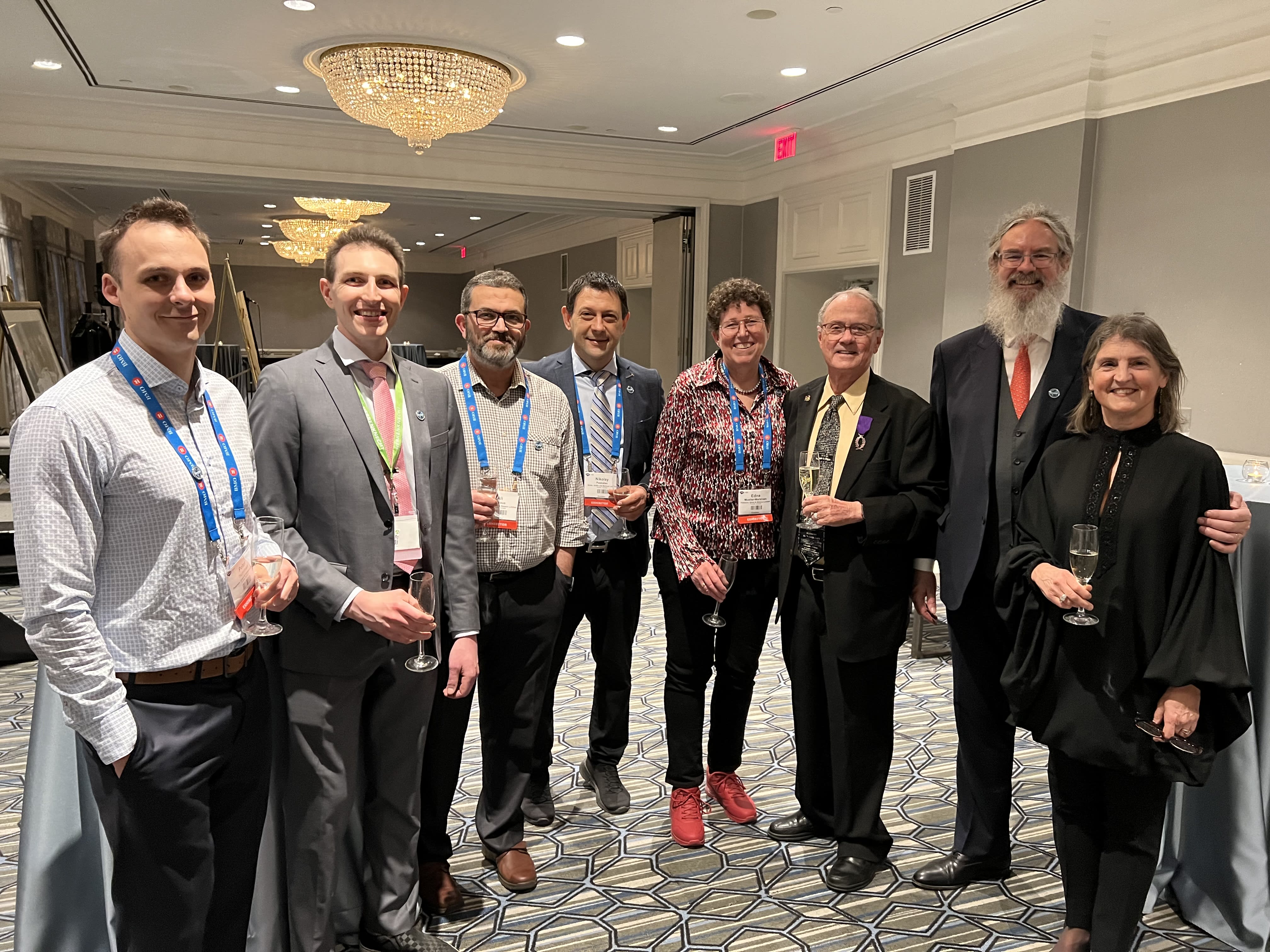 The PGW Family. From left to right: Peter Tschirhart, Skyler Mallozzi, Ali Latrous, Nikolay Paskalev, Edna Mueller-Markham, David Markham, Stephen Reford, and Sandra Reford.