Geophysical Interpretation

PGW offers a unique and innovative approach to geophysical interpretation that builds in geology in advance. Geology is in the interpretation right from time of data acquisition through structural interpretation to the final deliverable -- a comprehensive, illustrative report that illuminates targets both directly and indirectly.
We focus on the connection between geology and geophysics, and we spend the time up front on your project discussing the geology with you, developing a starting model and iterating the model as the process continues to a final, revealing picture of the target. We also look at the model as we go – identifying favourable areas early in exploration and developing them as more data is integrated.
Specialized attention is paid to delivering integrated, meaningful interpretations such as interpreting magnetics, not as domains as per the standard industry practice, but as geological units. With Electromagnetics, it's not a question of just following the data blindly but adding the geologic interpretation.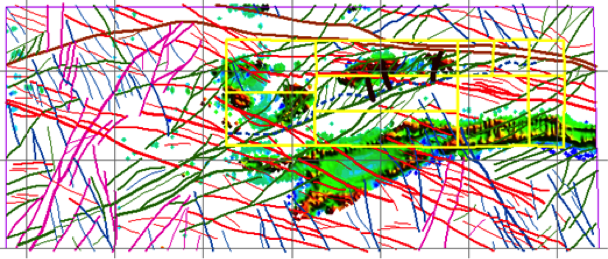 And geology is key – whether the data shows form lines (foliation, contacts, etc.) and fabric of geological units and contacts, anticlines and synclines, we define the intrinsic character of areas currently being drilled OR new targets. We look for special situations such as recognizing all targets, or instance, the repeated zones in anticlines.
In modelling, we develop a full 3D model with all surface geology and structure to depth. We then apply a Geology-driven inversion. This is a process of populating the model with physical properties to constrain to the geology and then inverting. The model then follows the geology as well as the geophysics – giving a truer picture of the target than with either methodology alone. This is an approach that is a unique value for PGW's clients.
PGW also offers in-house developed interpretation approaches that determine the presence or absence of key units in complex stratigraphy. For example, our ternary EM maps show areas in which conductors progress level-by-level to depth – showing not only extent but also dip direction. Other techniques can identify whether iron formations are present and then missing – we pull the maximum from the data so that previously hard-to-discern (or invisible) features are brought to the forefront of the interpretation.
Our experts have extensive knowledge of the interpretation of geophysical, geological, geochemical, remote sensing and topographic data for mineral and petroleum exploration, including country-wide and regional resource evaluations. Our interpretations are based on the following process flow:
preparatory processing; techniques to delineate contacts, lineaments and targets
modelling and inversion of geophysical data
qualitative interpretation of structure (faults, basins, synclines, anticlines, monoclines, fold axes, rifts, etc.) and tectonics
qualitative interpretation of lithology and metamorphism
location and identification of alteration
regolith classification
delineation of geological provinces and sub-provinces
determination of mineral potential
These elements are derived by utilizing all available geoscience data to synthesize an interpretation of both the surface and subsurface. They form the basis for determining ore environments, metallogenic provinces and mineral potential, as well as specific targets or target areas.
Unique and innovative approach to geophysical interpretation that builds in geology in advance so geology is in the interpretation right through to the final deliverables in PGW's comprehensive and illustrative reports and interpretation products.
Best and most informative reporting in the business.
Focus on the connection between geology and geophysics.
Determine the presence or absence of key units in complex stratigraphy – ex iron formation present and then missing – PGW can show these units where they might not have been visible with standalone interpretation.
Spend the time discussing geology and model before starting work to optimize expenditures and results.
Direct targeting, indirect targeting – look at model and see favourable areas
In Africa and Asia, such studies for government agencies have covered most or all of Thailand, Sarawak, Nigeria, Ivory Coast, Cameroun, Algeria, Lesotho, Malawi, and Liptako-Gourma (Burkina Faso/Mali/Niger). In addition, similar studies have been undertaken for the private sector (e.g. diamonds in South Africa, gold in West Africa).
Our experience with the processing and interpretation of remote sensing data includes LANDSAT 7 ETM+, ASTER, Hyperion, airborne hyperspectral and RADARSAT. We routinely prepare digital elevation models (DEM) from airborne survey data, Shuttle radar topography and digitised topographic maps.